Providing customizable and affordable solutions for your course — and your campus
Courseware / FlexEd
Custom book services
Campus solutions
Affordability solutions
Courseware / FlexEd
Custom book services
Campus solutions
Affordability solutions
A Higher Education Reimagined: How to Ensure Affordable Learning Solutions for All Students
It's no surprise that college students struggle to afford college tuition and course materials. How does the post-pandemic landscape affect this historic higher education problem?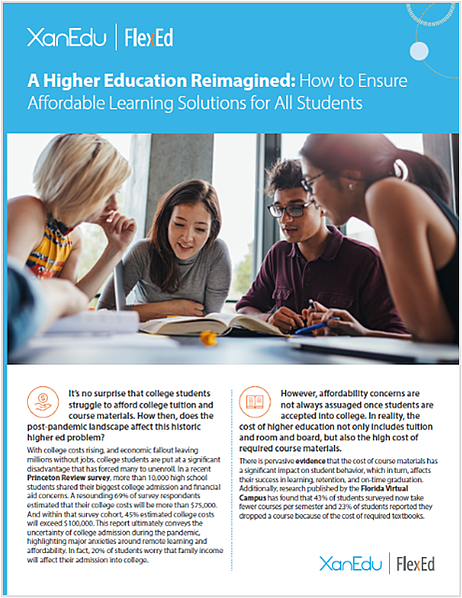 Trusted by colleges and universities nationwide
OpenStax Ally and preferred print partner since 2019
XanEdu is proud to be the preferred print, distribution, and customization partner for OpenStax, a nonprofit educational initiative based at Rice University.
OpenStax aims to make learning affordable by offering dozens of free, peer-reviewed, digital OER textbooks that are ideal for college courses. As an OpenStax Ally, XanEdu offers FlexEd courses (low-cost digital courseware that integrates directly into your LMS) that are based on many of the most popular OpenStax textbooks.
XanEdu enables colleges and universities to customize and distribute these textbooks — both in print and digitally — at scale.

Learning made relevant, accessible, and affordable
Explore our featured solutions:
Why colleges and universities choose XanEdu

"We choose XanEdu because of their excellent customer service and hassle-free returns policy. I have over 10 years of experience doing business with XanEdu and have never been let down."
Bookstore Manager, Adelphi University Bookstore
"XanEdu put together a custom course reader for a large class of 500 students. They were consummate professionals throughout, listening to our needs, setting clear timelines, and keeping us on track with everything that needed to be done."
Faculty member, New York liberal arts college

"Thank you XanEdu team. You are amazing! You really held my hand on this new venture. Now the struggle is what to delete, since the FlexEd course content is so good."
Associate Professor, Business & Economics Department, University of Cincinnati
Ready to learn more?
Connect with our team to explore how our higher education solutions can support your college or university's faculty, bookstore, library, and students.
More companies in the Scholarus Learning portfolio