Erin Conklin - K-12 Social Studies Supervisor for Duval County Public Schools and recipient of this year's Harry T. Moore Teaching for Civil Rights and Civil Liberties Award – noticed something after observing her district's social studies teachers.
"Learning has become so focused on accountability areas and state testing," noted Conklin. "Because of that, I see a lot of teachers who have lost their passion for teaching social studies."
Conklin also realized that it wasn't just teachers who had less of an interest in history, it was students too. For Conklin, the answer was creating a program that incorporated local history, primary and secondary sources, and other perspectives that students had not experienced before, for her African American Studies class.
"I knew that introducing a new, engaging resource that integrated local history would bring back interest and passion to the classroom," she said.
Conklin's district isn't alone - according to a recent survey done by Education Elements and XanEdu, more districts today are "looking for ways to engage students by making shifts towards personalized learning and customized curriculum." Sixty percent of survey respondents reported that they currently are engaged in efforts to customize their curriculum, while 28 percent of those not currently engaged in customization are interested in or considering some degree of customization.
Many curriculum leaders have been hesitant to incorporate custom materials based on the belief that it would be too expensive or too time consuming. However, as Erin experienced, custom projects can be manageable and budget friendly, especially when supplementing existing curriculum. Conklin acknowledges that she was initially apprehensive, but after her experience with the XanEdu Custom Curriculum team, she says that she would love to customize a book for every class. She suggests these five easy steps for developing a resource that will resonate with your teachers, students, curriculum writers, and district administration:
1. Don't be afraid to create a custom resource – "The first time I heard the word 'custom,' I was nervous," Conklin admits. "I thought for sure this will cost more than my budget." XanEdu presented her with a price quote to meet her budget, as well as a dedicated team, a workflow process, consistent milestone check-ins, and an early example of what the finished resource would look like, all of which helped allay Conklin's fears. "Knowing I was going to get exactly what I was looking for, at a price I could afford – and having a seamless, easy path to get there - definitely gave me the confidence to forge ahead."
2. Have a vision – "As a Curriculum Supervisor, I get so many copies of textbooks, but they never have exactly what I want in them," Conklin said. "I wanted to really personalize the materials with things students haven't seen before. For example, it's hard to find material on Ancient Africa – I knew I wanted resources that students couldn't find when they Google 'Black history.'" Conklin said the XanEdu team was able to take her vision and run with it: "I handed the XanEdu team our unit outlines and curriculum guides for what is taught throughout the year, and the team used this information to curate a variety of primary and secondary sources unique to what my district wants and needs, and what our state standards require." Conklin also looked for ways to make accessing the material relevant to today's students, like incorporating QR codes that students could scan with their phones to launch videos about the topics they are studying.
3. Choose the right partner – Conklin worked closely with the XanEdu team, but notes that it was a partnership effort. Conklin was able to give direction to a dedicated project manager while relying on XanEdu's larger team of historians, curators, and former teachers to utilize best practices and make suggestions to enhance the quality of the resource they were creating. In addition to making sure the curated materials and support materials aligned to the district's standards and objectives, the XanEdu team developed artifact synopses, unit introductions, key vocabulary terms, custom timelines, and unit spotlights.
4. Set a deadline and stay on track – While the time between having the idea for her custom resource and its desired completion date was very short, Conklin said the XanEdu team made the work easy and quick. A dedicated project manager established a timeline of deliverables and set "milestones" for XanEdu and Conklin – regularly scheduled dates and times that stakeholders would get together to review, document, and approve (or change) every asset and resource to be included in her book. Conklin notes that these milestone meetings were very effective for utilizing her limited time, which was a concern for her when she embarked on customization. "For someone who has a lot on their plate, this was the easiest thing on my to-do list. The XanEdu team made it a simple, seamless process."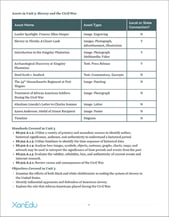 5. Just do it! – Conklin has one more piece of advice for anyone considering creating custom curriculum materials: "Just do it!" The XanEdu team provided Conklin with a data report that included specific research, sources, and information the team had collected for each of Conklin's subject areas, including which Florida standards were covered in each unit, each unit's assets and the connection to local or state history, and the student objectives for each unit. This report helped the Conklin and the XanEdu team create a resource that was exactly what she wanted to engage her teachers and students, as well as what she needed to align to the district standards.
John Carroll, XanEdu's Senior Vice President of Product Management and Strategy, points out that XanEdu was very proud to collaborate with Conklin on her goal to supplement existing curriculum with stories and texts reflecting the lived experiences of Duval County students. "Research has shown that curriculum that reflects a student's culture and experiences, result in increased student engagement and improved student outcomes. We enjoyed working with Ms. Conklin in developing a course to address this noble goal."
Read more about the story behind the books and download a sample here.