Please join us Thursday, August 11 3pm EST
Social Studies and ELA educators looking for great information and tools to get your students excited about history shouldn't miss this informative and interactive webinar!
We've all experienced it: your students' eyes glaze over the moment you start talking about the biggest people and events in U.S. history. Maybe they've heard the same thing before, or maybe they can't personally relate to what they're learning.
But what if you could get them excited by connecting the era of Andrew Jackson, for example, to the history of their own community? Helping students see the bigger picture through local history is a technique that Peter Vermilyea - Social Studies educator at Housatonic Valley Regional High School and Western Connecticut State University - has effectively used for years to engage students with what they're learning and get them excited to learn more about where they live.
Register by filling out the form on this page
Hosted by: Peter Vermilyea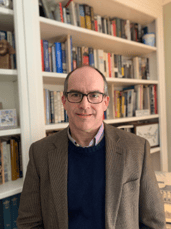 Peter Vermilyea teaches history at Housatonic Valley Regional High School in Falls Village, Connecticut, and at Western Connecticut State University. A graduate of Gettysburg College, he is the director of the student scholarship program at his alma mater's Civil War Institute. He is the author or editor of three books (including Hidden History of Litchfield County) and more than a dozen articles. He lives in Litchfield with his wife and two sons.