Thank you for supporting OpenStax's mission to improve student access to higher education.

List of soon-to-be-available print versions of new OpenStax titles:
College Physics for AP Courses 2e
Faculty, bookstores and school district staff interested in purchasing in bulk, please complete the form on this page to be notified when print copies of this textbook are available.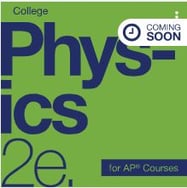 Coming Soon to Amazon: Single-copies of the above books will soon be available for sale too at www.amazon.com/openstax
For college bookstores/school districts: If you are interested in purchasing in bulk, discounted bookstore or school district bulk orders, complete the form on this page to get more information on bulk orders of printed copies of this textbook.
Thank you for your interest in printed versions of OpenStax textbooks.
More information about OpenStax titles are here: https://openstax.org/
If you have questions on the above titles, or other OpenStax textbooks or other XanEdu services, we are happy to help. Either call us at 1-888-212-3121, contact us using the chatbot, or book a time to chat.