Florida Civic Literacy (4-5). Elementary students are introduced to the core U.S. foundational documents: The Declaration of Independence, the U.S. Constitution - specifically the Preamble and Bill of Rights. Also included are the Articles of Government, The Emancipation Proclamation, and The Gettysburg Address.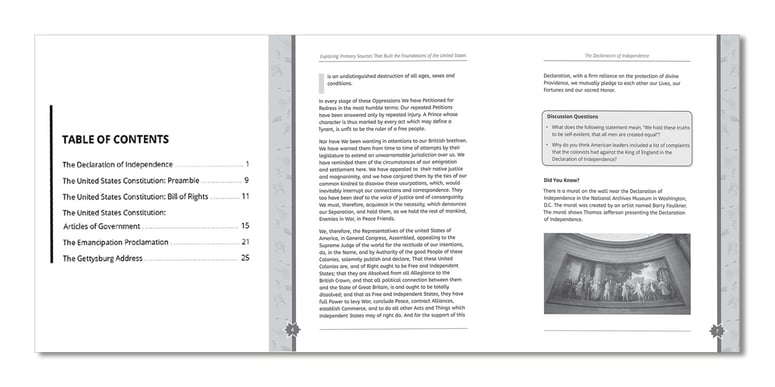 Florida Civic Literacy (6-8). Middle school students will learn about early views on rights via Letters from a Farmer in Pennsylvania, The Rights of the Colonists, and Narrative of the Life of Frederick Douglass. Supreme Court cases include Plessy v. Ferguson, Loving v. Virginia, Citizens United v. Federal Election Commission, and more.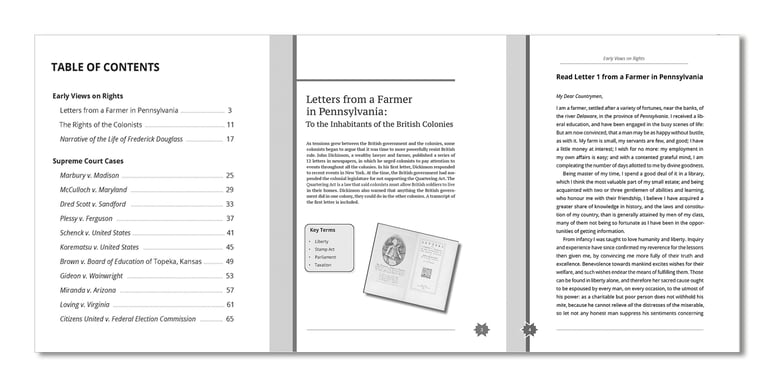 Florida Civic Literacy (9-12). Features more than a dozen foundational documents on the development of American political thought including: The Magna Carta, Leviathan, The Spirit of the Laws, Common Sense, Civil Disobedience, and Lyndon Johnson's Speech to Congress on Voting Rights. Supporting Supreme Court cases include McColloch v. Maryland, Dred Scott v. Sandford, Brown v. Board of Education, Gideon v. Wainwright, Miranda v. Arizona, and more. Also includes the 1838 and 1968 Florida state constitutions so students can compare and contrast the changes.