Course Materials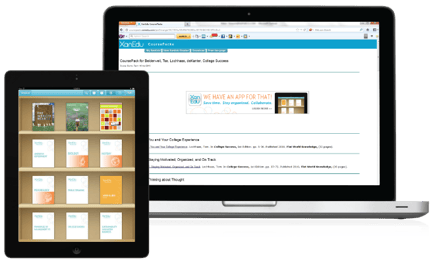 myXanEdu is a digital platform for viewing, managing and interacting with your XanEdu course materials. If your professor has chosen XanEdu, you'll be able to:
Access your course materials from desktop computers, laptops, and tablets

Use both online and offline

Navigate easily through extensive materials using our quick links from a Table of Contents

Highlight, take notes and customize your study experience

Adjust the text size, margins, and highlighting preferences

Search course materials using key words or phrases

Watch professor-selected videos from directly within myXanEdu

Expand charts, pictures and graphics for better viewing

Sync between devices

Download enhanced PDFs to your desktop for offline access. The free download, Adobe Reader, will function as Adobe Professional, allowing highlighting and note taking within the PDF document.

Retain your course materials forever – no expiration
myXanEdu Includes
XanEdu Account – to manage course materials in one place. Sign up today.
Web Reader – best for desktop and laptop users.
iPad App – available for free in the App Store for iPad and iPad mini users.

Android App – available for free in the Google Play Store. See our list of Android compatible devices for the best experience.

Student Resources
View our student resources page for online help links and informational videos.