Are You Falling for These 4 OER Myths? Don't Let Them Get in the Way of Quality, Affordable Content.
Download this white paper for common misconceptions about what OER is and how it can be reimagined by debunking 4 myths we uncovered in our survey.
Today's educator knows that immersive education involves far more than adhering to a textbook or off-the-shelf curriculum. It's about engaging students through different mediums and types of relevant learning materials that create connections for students.
We partnered with Higher Ed Dive's studioID for a survey about the use of OER in higher ed classrooms. Download the white paper for insights on OER misconceptions and why they shouldn't prevent educators from augmenting existing curricula to create a richer, more engaging experience.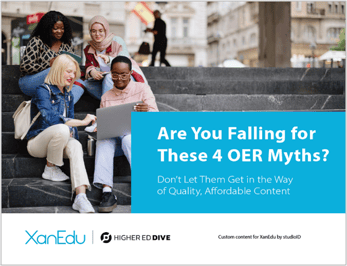 If your institution is ready to take advantage of customized, affordable OER, to give students the low-cost, yet robust experience they expect and deserve, contact us to get started.