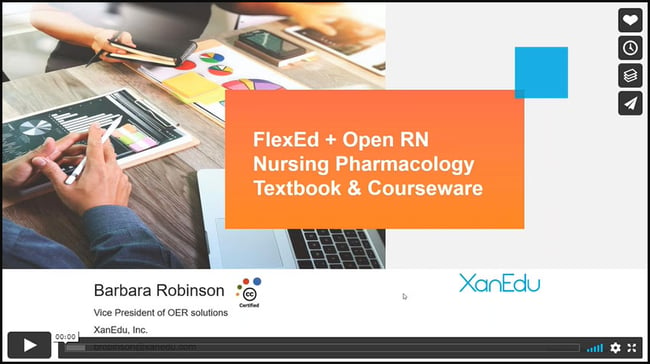 Easy transition to Nursing OER with Open RN & XanEdu FlexEd
Play Video
(30 mins)
Overview:
Concerned about the time involved in adopting free OER nursing textbooks? This video features XanEdu's Vice President of OER Solutions, Barbara Robinson, explaining how the FlexEd 'course-in-a-box' solution can make the transition to Open RN's free OER textbooks easy and efficient.

About Open RN:
XanEdu has partnered with Open RN to help college nursing programs and their students access high-quality customizable OER textbooks. The Open RN textbooks will always be free in digital formats, and low-cost in print (paperback, full-color) and related courseware.

About FlexEd:
XanEdu FlexEd is affordable digital courseware that builds on the high quality, free content from Open RN to keep costs low for students. As a complete course-in-a-box, FlexEd provides everything from lecture slides to assessments, study aids, and case studies, all integrated with any LMS.