A Higher Education Reimagined: How to Ensure Affordable Learning Solutions for All Students
Download this article for insights on how to successfully implement an institutional strategy for reducing the cost of course materials.
It's no surprise that college students struggle to afford college tuition and course materials. How then, does the post-pandemic landscape affect this historic higher education problem? Read on to learn what an Affordable Learning Solutions (AL$) plan looks like along with tips for a successful implementation.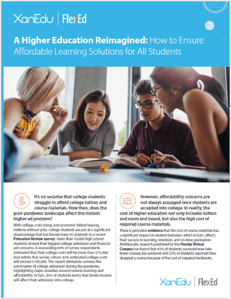 Let us help you deliver a quality, low-cost solution that will engage your student. Contact us to get started.