XanEdu Quick Tips:

Increasing student engagement with OER + Courseware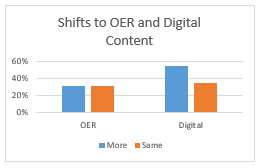 The shift to digital content has been an increasing trend for the last decade. Affordability initiatives on campus also continue to gain momentum with free, Open Educational Resources (OER) playing a prominent role. Many stakeholders in the education community facing these transitions are concerned with the workload involved as they seek to find and implement solutions that deliver quality content and keep students engaged.
During a recent webinar, we asked attendees about their content plans for the coming Fall, many responded that they will continue or increase usage of OER, but a significant number indicated an increase in the use of digital content for the upcoming Fall term. We also asked about the challenges involved with courseware adoption. Not surprisingly, many of our attendees cited the time involved with transitioning as their biggest challenge.
This article will explore tips for increasing student engagement and for selecting effective courseware that will ease your transition to OER and digital while enhancing engagement efforts in any setting, virtual, in person, or hybrid.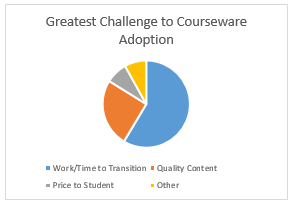 Keep it Simple and Affordable:
Because OER content is free, it is a great tool for affordability. Seeking out courseware that is built on quality OER content will keep student costs low. The use of these materials has been steadily increasing and there is a wealth of content for just about every subject. There are many high quality providers of OER including OpenStax, a growing not for profit organization has brought high quality OER content to the forefront of the education industry.
Seek solutions that integrate with the LMS that students are already using. It can be a frustrating experience for students if they're continually facing multiple logins, websites and payment requirements.
Hear Their Voices:
Make it a point to hear every student voice. Think outside the box and try some new things! Vineet Madan, an educational innovator and entrepreneur, suggests mini focus groups or office hours to get students talking and engaged in a smaller, easier to manage setting. You could even work this into class time.
Consider participation as a component of grading and set expectations upfront. According to one student "…the professors decided to give 25% of the final grade toward student participation….I've noticed that I've become more engaged as a result of the heavy participation incentive and I'm learning – win, win!"
Courseware can provide integrated discussion threads and the ability to insert and monitor what is being said and to ensure that all students are participating. Many products provide suggested discussion topics for every lesson.
Employ Multiple Modes:
Text books are important, but seek additional modes of content. Students love videos and incorporating current events is a nice touch. Consider case studies to push them to think about real world application. Go beyond the traditional research paper – consider a mock blog, newscast, or press conference - be creative!
"There is a guest speaker each week. They talk about their position and how it pertains to what the students are learning. It's a good way to network virtually while having that classroom setting at the same time. Also gives the student and professor variety and I noticed that I've become more engaged as a result."
This may sound like a ton of work, however, adopting courseware products that include well thought out and comprehensive additional content can alleviate most of the burden. Research the product to fully understand what supplemental material is included, there is a wide range. Additionally, ensure they are using a qualified subject matter experts to curate relevant, quality content selection and copyright clearances.
Assess Frequently:
High stakes exams are generally not a great fit during remote learning situations, it is easy for students to fall through the cracks and they may not realize it until it is too late. Try smaller, bite size exams and assignments, particularly in the first few weeks, it will give students incentive to stay engaged, even if they aren't on campus or in class. This can highlight any students who are checked out early on so that they can get needed support.
Well-designed courseware can deliver these frequent, small assessments. Many feature large question banks and auto grading to ease faculty workload.
Well-timed nudges:
Students learn best when they feel connected and supported in their learning and appreciate personalized contact. Even simple and small texts can make an impact. Seek ways to reach out with personalized messages, particularly for students that may be struggling.
Some courseware solutions incorporate a personalized student study center to manage assignments, tests and general course flow. Encourage your students to set these up at the beginning of each term.
When evaluating courseware solutions, learn about the student analytics features. Student engagement dashboards can easily highlight students who aren't engaging with the courseware platform and can feature integrated prompts and touchpoints from faculty. Many platforms have integrated communications tied to student engagement metrics. Some offer automated reminders that can be set based on the calendar or on instructor pre-determined engagement activities. This will not only save you time, but will also support your students as they go through the course.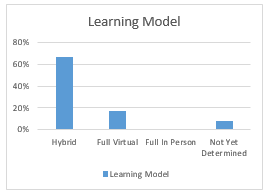 Build for Flexibility:
A significant majority of our webinar attendees responded that their institution is planning a hybrid format for the upcoming Fall term. Digital content, particularly full courseware solutions, gives you and your students the freedom to easily transition between in person, remote and everything in between. Seek out courseware that provides flexibility that faculty can easily self-manage and update based on student interests, current events, or the latest research.

Well designed courseware, such as XanEdu's FlexEd can help professors make the transition to both digital content and OER.
FlexEd is a full 'course in a box' solution built on carefully curated OER content which not only keeps costs low, but saves instructors the daunting task of finding content and ensuring copyright clearances. Additionally, FlexEd is easy to customize – drag and drop functionality empowers faculty to update in real time – no technical skills required.
Finally, FlexEd is designed for simple usage by both students and instructors. It integrates with any LMS and features a full suite of study aids for students as well as integrated discussions, chat, video conference and a full suite of engagement analytics and communication for faculty.
For a free trial of FlexEd, schedule a consultation with a XanEdu expert: